If you have your radio connected directly to your computer which has wifi Internet access and you need your radio to access the Internet to download a SmartSDR license, you will need to configure pass-through network access, known as network bridging, from your Wifi to your PC's Ethernet port. This is actually a fairly simple process. Note that not all PC hardware supports this feature and if the options are not displayed on your PC, it does not support network bridging.
To install Network Bridging, just follow the steps below:
Step 1: Disconnect the Radio from the PC
If your radio is running, shut down SmartSDR and then power off the radio. The disconnect the Ethernet cable from the PC.
Step 2: Connect your PC to a wifi network
If your PC is not connected to the Internet via a WiFi connection, then connect your PC to a wifi network to the Internet.
Step 3: Create Bridge Connection on the PC
Goto Adapter Settings (Control Panel -> Network and Sharing Center -> Change adapter settings)
Select Local Area Connection (Ethernet port the FLEX-6000 connects to) and Wireless Network Connection and then right-click and choose "Add to Bridge"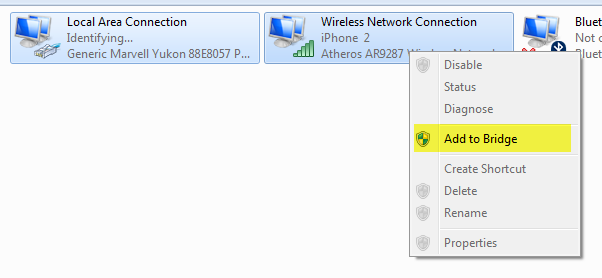 Step 4: Connect Ethernet cable from Radio to PC
Now connect the PC to the Radio via the Ethernet cable.


Step 5: Reboot the radio.
After rebooting the radio, your FLEX-6000 should now have Internet access.