There are occasions when SmartSDR CAT is not closed before the PC is shut down, the CAT configuration file (CAT.settings) can get corrupted. When this happens, one of the things you may see one or more FlexVSP virtual com ports in the Windows Device Manager that are not associated with defined CAT ports See the image below for an example.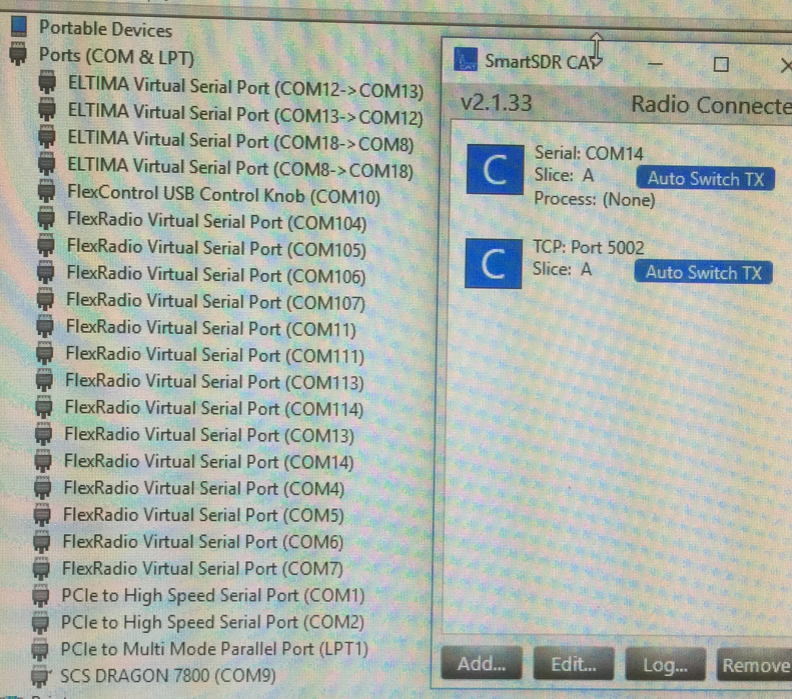 When this situation of disassociated CAT ports occurs, there is a simple fix to remove the unassociated virtual serial ports in Device Manager.
Do NOT attempt to remove the FlexRadio Virtual Serial Ports using Device Manager. This will not remove the ports and can possibly damage the registry entries associated with each port's configuration.
Follow this simple procedure:
Power on your FLEX-6000
Open SmartSDR CAT and make sure it is connected to your radio.
On the SmartCAT window, place your mouse cursor over the REMOVE button and right mouse click to bring up the Remove Menu options
Select Reset FlexVSP drivers
Wait about a minute
Then run this procedure:
https://helpdesk.flexradio.com/hc/en-us/articles/115000504463-Removing-In-Use-Com-Ports-for-Available-Com-Ports
Reboot your PC
The additional FlexVSP virtual serial ports that were not associated with a CAT port have been removed.
Resetting the CAT.settings file
After this procedure has been run, you should be able to recreate your CAT ports. If not, or if the disassociated Flexradio Virtual serial ports return after a PC reboot, then the CAT.settings file is corrupted and will need to be deleted so a new default CAT.settings file can be created. To do this, use the following procedure:
Shut down SmartSDR CAT
In the Windows search box, enter the following search string (without the quotes):
"%APPDATA%\FlexRadio Systems"
It will display a folder containing the file CAT.settings. Delete this file.
Restart SmartSDR CAT and there will be the single CAT port that uses a virtual serial port (com4) and one that uses TCP (port 5002).
Rerun the procedure above to remove the unassociated virtual serial ports in Device Manager.