DownEast Microwave (DEMI) has new pre-assembled 4 and 2 meter power amplifiers / LNA exclusively for the FLEX-6700 and FLEX-6500.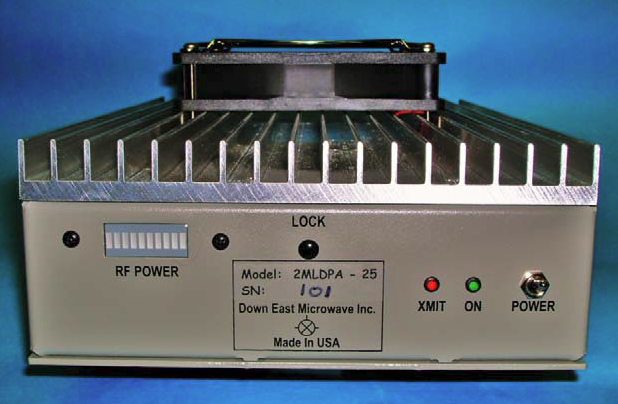 Based on the popular DEMI VHF transverter design, they have developed a 2 and 4 meter power amplifier design to compliment the FLEX-6700/6500 transceivers. The design utilizes many of the features found in the popular DEMI VHF transverter designs such as a robust preamplifier, a bar graph RF power meter, sequencer, and cooling fan speed controller. It also includes some features to allow simple transverter operation with the FLEX-6700/6500.
All models will have 3 pole helical pre filtering before the TX gain stages that boost the level of the FLEX transceivers XVTR port before final amplification. Final output filtering is a Low pass design that ensures a -65dBC spurious level on all bands.
DEMI has provided a simple 4 step sequencer in all amplifier versions. It is similar to our TRS in theory but without the relays. It is all solid state switching. This is a perfect complement to the FLEX-6000 Signature Series transceivers allowing it to be completely isolated and frequency dependent to the specific amplifier in use. The sequencer use is optional and is intended to provide additional switching circuits for controlling high performance 4 and 2M system utilizing high power amplifiers and mast mount preamplifiers.
The amplifiers may be configured with many different options depending on your specific operation. The "TX out - RX in" side or "Antenna Port" of the amplifier may share a common connector through an internal TR relay or be configured as two separate ports that could be combined externally if desired. The 2MLDPA-75 also has a HP relay option that is recommended for all but the casual user if you desire a Common antenna port. As briefly discussed before, the amplifiers RF power detect voltage may be routed out the AUX jack if you intend to remote mount the amplifier. A remote "ON/OFF" may also be installed. The sequencer may be configured to switch 12VDC or ground on either TX or RX. An external DC voltage such as 28 VDC may also be switched if provided. Keying of the amplifier has many options. Either a high or low will activate the amplifier directly or via the sequencer. Keying may also be done with a voltage signal on the input coax if desired to eliminate a configuration wire and if the transceiver being utilized has that capability. Other special options that you may require may be available.
Below are the available models.
4m (70-72 MHz) 25W amplifier (model number: 4MLDPA) for the FLEX-6500 and FLEX-6700
2m (144-148 MHz) 75W amplifier (model number: 2MLDPA-75) for the FLEX-6700 only
2m (144-148 MHz) 25W amplifier (model number: 2MLDPA-25) for the FLEX-6700 only
For more information, please refer to the DEMI web site.