Kuhne Electronics offers a 60W VHF MOSFET 2m Power Amplifier (PA) designed for use with FlexRadio Systems FLEX-6700.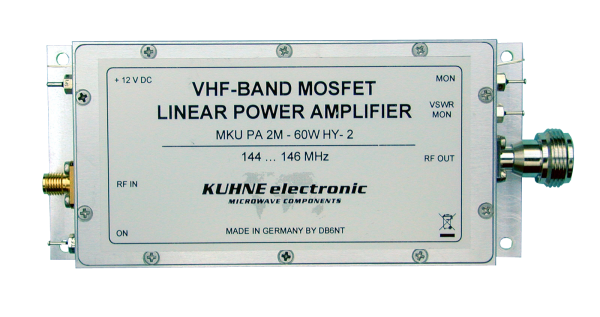 Designed to connect to the XVTR port on the FLEX-6700, the MKU PA 2M-60W HY-2, is a VHF-MOSFET power amplifier covering 144 through 146 MHz capable of 60 Watts of output. The PA draws a maximum of 12 amps at 13.8 VDC.
The MKU PA 2M-60W HY-2 offers good linearity, built-in low-pass filter for good harmonic rejection, reverse polarity protection, along with monitor outputs for forward and reverse power detection.
Refer to the MKU PA 2M-60W HY-2 Product page for additional details and ordering information