Article by: EA4GLI / 8P9EH - Salvador
I recently purchased a FLEX-6300 and was at first disappointed with the performance of the waterfall display and panadapter. I had to lower the speed and FPS way down to avoid the lines the OP was referring to.
I was very surprise by this because my laptop is an Intel Core i7 with 8GB of RAM and a dedicated 2GB Nvidia GT550M video card.
I am running 2 24" LCD monitors off the laptop, one on the VGA port and one on the HDMI port.
After some research online I discovered the culprit of my performance issues.
By default, desktop applications use the integrated graphic card, in the case of this laptop, an Intel HD 3000. While this card is perfectly capable of running a couple of monitors and display 2D content, it does struggle with games and GPU intensive apps such as SmartSDR.
It is only when you run a computer game, that the default setting on the Nvidia card will kick in, utilizing the more powerful Nvidia card to run the graphics.
All of this time I was running SmartSDR on the integrated Intel HD 3000 card instead of taking advantage of the better video card.
The following are the steps to change it if you happen to have a similar configuration to mine, with an NVIDIA video card.
First go to NVIDIA Control Panel. You can easily do this on Win7 by right clicking an empty area of the desktop and selecting "NVIDIA Control Panel" on the context menu.
On the top menu options "File | Edit | Desktop | 3D Settings | Help" click on "Desktop". Once there, select "Display GPU Activity Icon in Notification Area". This will add a little square icon on the bottom right of your task bar. If it doesn't have any color, you are not running any program through the NVIDIA GPU engine. You can also hover the icon and it will tell you the number of programs running on the video card.

Next, we need to make sure SmartSDR uses the better video card.
Inside the NVIDIA Control Panel you can see a list of Tasks on the left column. Open the 3D Settings group and select "Manage 3D settings".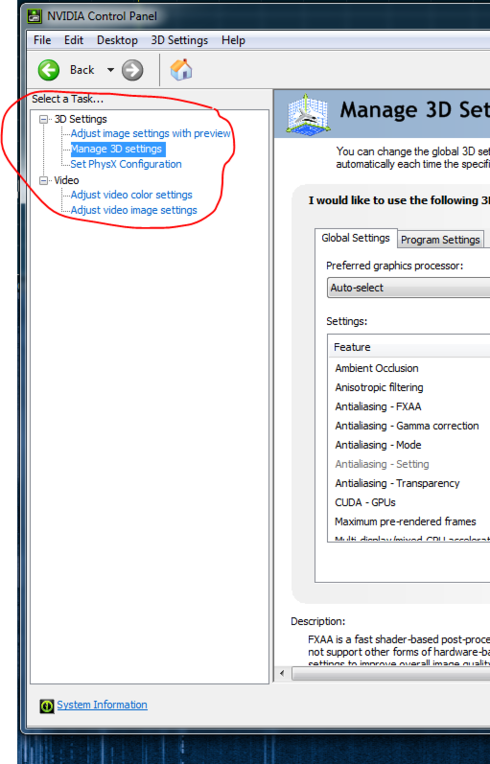 Inside the "Global Settings" tab you can select the option to Always run the "High-performance NVIDIA processor" instead of the default "Auto-select".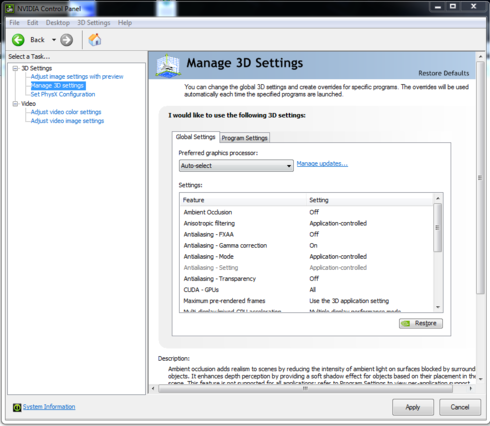 You can also select the "Program Settings" tab and individually add the programs that will use the NVIDIA card versus using the integrated Intel HD 3000 GPU.
You can add "smartsdr" and that will make a world of difference! It did on my laptop.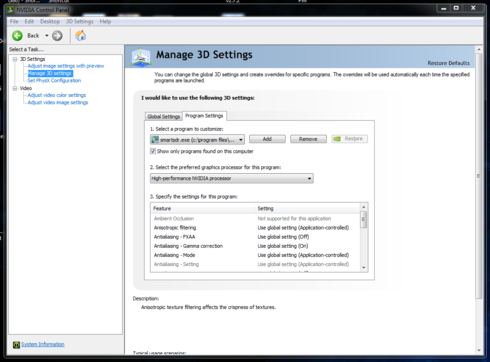 I hope this helps!
My waterfall and panadapter are buttery smooth now.